Hello, Han.
Not work blink align images.
Attachments

2019-03-07_21-21-56.png (295.12 KiB) Viewed 33133 times
---
Hello Serg,
If manual alignment is selected, the file names should turn red. Then double click on each file and select every time the same star in the viewer till all files are green. Then hit the stack button. Does this work for you?
A round circle indicated good lock. A square a poor lock. After having all green you could check again before stacking.
Updated the manual a little:
astap.htm#manual_alignment
Han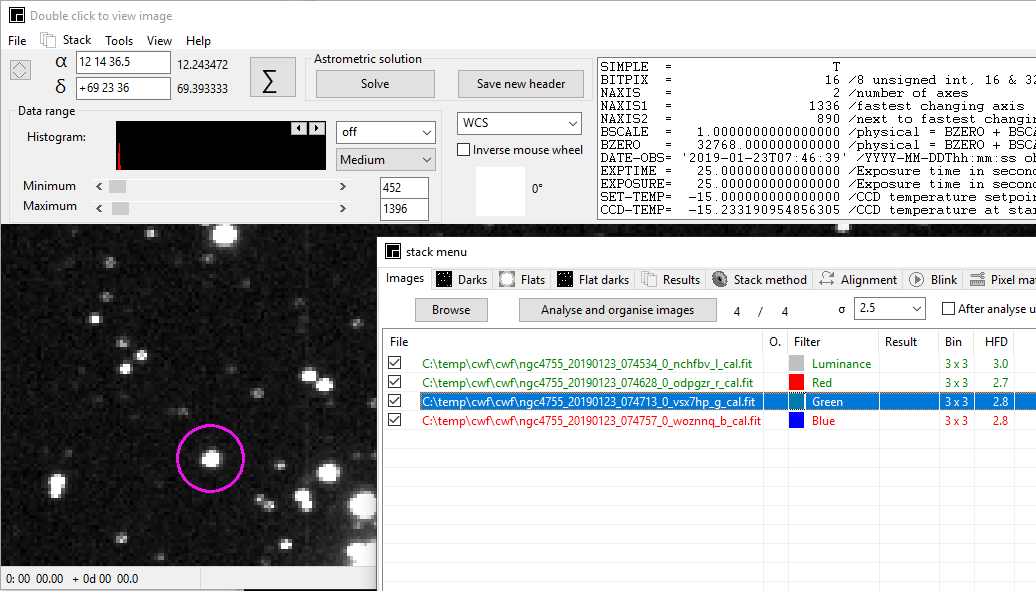 ---
Hello, Han.
Manual alignment on one star works.
Not working the alignment on tab Blink.
---
Hello Serg,

Sorry for the late response. I see that the images are not aligned while blinking. I will investigate.

Regards, Han
---
Hello Serg,

Problem should be solved. It was mainly due to old solution files which are all relative to the first image in the list. Now I force a delete of the solution of any file added by the browser. There was also a mistake for 180 degrees images. that solution was ignored because it was negative.

Version 0.9.187 should work.

Regards, Han
---
Hello Han.
If the images are not aligned, they must be aligned before blinking. Need to do so to the next frame arrived in those same coordinates. Now the footage is shifting.
Attachments

2019-03-13_06-56-39.png (111.32 KiB) Viewed 33077 times
---
Hello Serg,

I checked again here. For my test images it works, so I assume it can't match your images correctly. Maybe I have to add the possibility to bin2x2 the images first. Binning 2x2 is only applied for astrometric stacking but not for star matching at the moment. Sometimes changing the stack settings helps. I also could combine the colours so not only rely on the red channel.

Can you provide the two images of your list, so I can look how to improve the matching routine?

--Han
---
Hello Han.
These files are also not aligned, like many others.
https://yadi.sk/d/cWeqyZR_kmdPTg
I have a suggestion. Implement the ability to write to the header file type demosaic. For example, in these two files, the camera is the same, but filmed in different versions of the program CCDCiel and debaerization is different.
---
Hello Serg,

One image is maybe 80 degrees rotated. I removed a check for a valid solution which was causing problem.

Secondly OSC images are difficult to solve prior to calibration and demosaicing. This is not done for blinking. Blinking with these RAW images only work if you first bin the images 2x2. from option in the pull down menu.

I also see from your images that the green channel is very strong. I have seen that in other OSC images. Somehow green is picking up a lot light pollution.

I have thought of auto correction the demosaic pattern. One of your images is different. It would be better if it was done at e.g. CCDCIEL

Anyhow I have created version 0.9.188. This will work for the two M51 images if first binned 2x2.

Note there is an stack option, "calibrate only" That should help to make coloured images. I think adding calibration to the blink menu will be too slow.

--Han
---